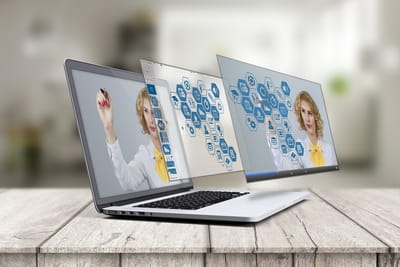 We would like to express a grave concern for the young children we serve at Early Childhood Mental Health Program. We work with young children who are being disproportionately affected by school closures and distant learning.We want to take a minute to tell you a story about one of the families we work with.
Anaya is a 5-year-old African American child who lives in El Sobrante. In January of last year, Anaya was attending preschool, making friends and doing well. She is a child with very high energy, but very bright and talented. When her preschool closed due to the shelter in place Anaya became cut off from her peers, teachers, and education.
Anaya's mom Carol has some serious health problems. Keeping up with Anaya at home has always been a struggle, but with no school it became even harder. When Carol tried to register Anaya for school, the school was closed. She wasn't sure where to register her and isn't particularly tech savvy. She had no idea who to talk to and received no notification or support about what to do. By the time she was able to register Anaya for school, it was a few weeks after the class had started. It was hard to get a chrome book and it was even harder to get Anaya to sit in front of the screen for any amount of time.
Carol brought in help from relatives to help, but the pace of instruction and the confusing structure of distance learning continue to be quite difficult for Anaya and her family. One of the most devastating aspects of these struggles with distance learning, is the impact it has had on Anaya and Carol's relationship. Carol is constantly overwhelmed; and Anaya is having more tantrums than ever before.
Anaya's mom relied on school to allow her to work and have a safe place for Anaya to be stimulated and supported. School is a place where children and families don't just receive an education. School is an essential community of support. Anaya's story is not any different than that of other children right now. It is because we have heard so many of these stories that we write this letter to urge you to prioritize the opening of schools for children under the age of ten.
Early Childhood Mental Health Program is a community based mental health clinic that provides therapy to very young children and their families primarily in west Contra Costa County. The children and families we serve range from newborn babies to seven-year-old children. All of our therapists specialize in this work and understand the specific struggles that families of young children and toddlers endure. This collective trauma of a global pandemic has affected the lives of children and families across the globe. At the time of writing this letter at least 500 thousand people in the United States have died from this virus. The loss of so many family members and loved ones has impacted the lives of our community in ways we can't yet understand.
At the beginning of the pandemic, we closed our community clinic, our therapeutic preschool program, and sent staff home. Like other community clinics, we were caught off guard. We quickly adapted and now all of our clinicians primarily work from home and provide support via zoom or over the phone. Our therapeutic nursery school, however, has been open since June with zero instance of transmission. As you can imagine telehealth services are quite difficult to provide to toddlers and young children. We have adapted to this change, but we have found that many families cannot.
The families we serve often have more than one family living in the home, they live day to day, and depend on their children going to childcare or school to be able to work. Most often they have a very limited support system, and many have immigrated here to seek asylum due to trauma they suffered in their home countries. Often our therapists are their only support system. These families have little access to the internet, most do not have a computer at home, and many are just learning how to speak English. These families are not prepared to support their children with distance learning.
West Contra Costa Unified School district where children are doing 100% distance learning, children as young as kindergartners are being asked to engage in distance learning often for up to six hours per day. Some teachers have adapted in creative and inclusive ways, but not all teachers and classes have the same expectations, and most parents are not trained in how to be elementary school teachers to do the offline teaching.
The American Academy of Pediatrics strongly advocates that all policy considerations for school COVID-19 plans should start with a goal of having students physically present in school. The UCSF Collaborative to Advise on Re-opening Education Safely (CARES) which is comprised of experts in the fields pediatrics, public health, and early development and education, weighs in on this issue with scientific information and education to schools and school districts regarding the recognition and mitigation of risks for children and the adults in their school and home communities as well as understanding how risks differ in different populations of students and between teachers/staff and other adults in the community. They have the goal of supporting equity through scientific guidance to give all children access to schools as a primary safety net in our communities.
We are deeply concerned with the lack of social emotional learning that is happening through remote classes. In our direct work with families, we have seen the devastating effects of the disproportionate impact distance learning has had on young children. Social skills and emotional regulation can't come from watching a video about being friends. It comes from one-to-one time, small group time, in relationship with others. Young children learn in the context of their relationships with others, and we are just beginning to see the effects of this social isolation on their behavior and development. Parents have been told by WCCUSD that social-emotional based programs would be taught on Fridays, yet very little has been rolled out to date.
Our families report their children are having more frequent tantrums, increased worry about their safety, withdrawal from activities they once enjoyed, increased separation anxiety, lower frustration tolerance, and difficulties such as having a hard time falling asleep or frequent nightmares. We have also seen a dramatic increase in young children using screen time with television and video games in an attempt to cope with anxiety and boredom.
There is also a staggering difference in the levels of technological literacy in children who live in poverty compared to those in our county who live in financial security. One impact for a family's level of technological literacy, is that your children miss out on the instruction that others have easy access to. It has created an entire new system of inequality in schools.
One most pressing concern is how distance learning impacts parents in unprecedented ways, undermining their role to provide safety, emotional support, love and guidance. A child uses their relationship to learn how to process emotions, understand others, and build trusting relationships with others. Parents being forced into the role of teacher, administrator and principal severely burdens the most important relationship in a developing child's life. Not to mention the additional burden it places on parents who work.
Normal parenting is hard enough, parenting with virtual school is making it almost impossible. This is especially true to parents and children with multiple stressors in their lives. Schools are not just about educating children; they are also hubs of social support for families which help navigate stressors in the context of supportive relationships with other parents. Our families are disproportionately isolated and especially vulnerable to the negative mental health impacts of the pandemic such as anxiety, depression, toxic stress and violence.
As mental health professionals who specialize in supporting young children, we highly recommend that the school district consider the negative mental health outcomes of school closures. Children under the age of ten suffer from these policies. We are creating a new pandemic that has yet to hit our community; a mental health pandemic for young children which impacts social skills, mental health, and parent child relationships. We strongly encourage the school district to follow the advice of the CDC, APA, and The UCSF CARES team. The school district needs to prioritize the return to school for the youngest children.
In conclusion, we urge the school district to include the voices of trauma and mental health specialists in the reopening schools. Teachers in our school district struggled to meet the mental health needs of young children even before the pandemic. The social isolation, collective trauma, and loss of an entire year of social emotional support is going to have a grave impact on children as they return to school. Trauma informed support and guidance for teachers is going to be especially essential. At ECMHP we have provided such training for years and are available to provide support to teachers free of cost to the school district. Our concerns for our community are significant and we need to come together to meet the needs of all children in the district and begin the difficult process of healing from this prolonged trauma.
Respectfully,
Amanda Campbell LMFT
Yvonne Jaffe Madera LMFT
Angelica Pruyn LCSW
Clinical Director
Child and Family Therapist
Bilingual Therapist
Clinical Supervisor
Child and Family Therapist






Jeffrey Sloan MS, MBA
Suzanne Harkless LMFT
Anna Cabezas LMFT
Executive Director
Child and Family Therapist
Child and Family Therapist






Connie Milligan LMFT
Sami Qreini LCSW
RaeAnn Goldberg LMFT
Clinical Supervisor
Clinical Supervisor
Clinical Supervisor
Child and Family Therapist
Child and Family Therapist
Child and Family Therapist






Shereen Khan-Amrikani LMFT
Sally Lowder LCSW
Douglas Novotny Ph.D.
Clinical Administrator
Clinical Supervisor
Clinical Supervisor
Child and Family Therapist
Child and Family Therapist
Child and Family Therapist






Samantha Watson-Alvarado LMFT
Clinical Supervisor
Heather Coleman Ph.D.
Clinical Supervisor
Juliane Kowski LCAT MT-BC
Clinical Supervisor
Child and Family Therapist
Child and Family Therapist
Child and Family Therapist






Stephanie Kraus LMFT
Cecilia De Rubira LMFT
Richelle Howell Ph.D.
Clinical Supervisor
Clinical Supervisor
Clinical Supervisor
Child and Family Therapist

Mary Lynn Sasso, M.S.
Mental Health Consultant
Child and Family Therapist
Child and Family Therapist